We all want healthy bodies that give us the energy to accomplish our goals and live our best lives. However, for many, gaining weight is all too easy, and losing it seems like a never-ending battle. Although there's no substitute for proper diet and exercise, for some, it may not be enough to shed the extra pounds, build muscle, and reach their fitness goals. Fortunately, there are powerful supplements that can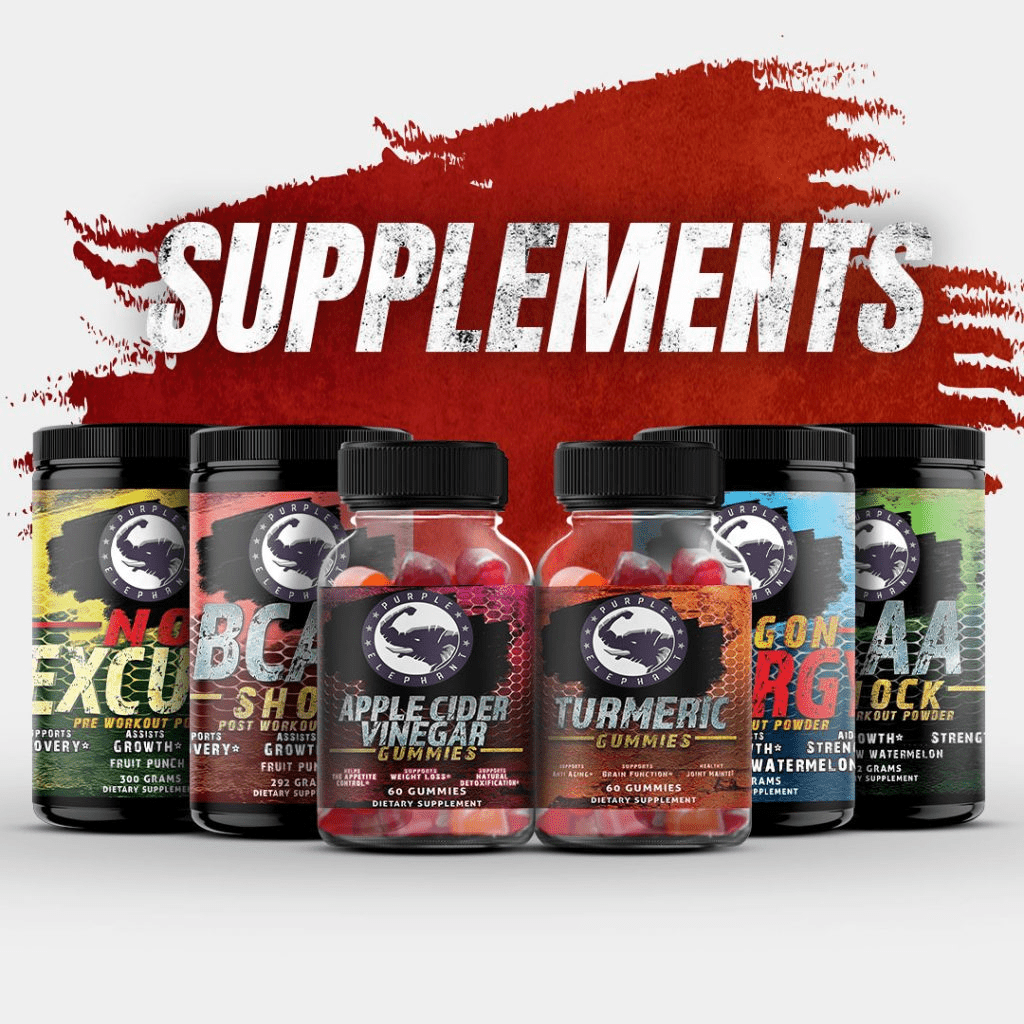 help you finally lose that stubborn fat and give you the energy and stamina necessary for impactful, high-intensity workouts.
The problem is that it can be challenging to find high-quality supplements with safe, highly effective ingredients proven to aid in weight loss, muscle development, and stamina. However, if you know what to look for, you can make informed decisions that will pay dividends in the future. If you're ready to finally ditch the excess weight and get fit, this article will help you find the best supplements to support you in your journey.
What Ingredients To Look For
Before you can choose the best supplement to fit your fitness and health needs, you need a clear goal. Do you want to lose weight? Maybe you'd like to have more stamina during your workouts? Once you have an objective, you can find which ingredients work best to help you achieve your goal.
Weight Loss
Many people start their fitness journey trying to lose excess weight. When you look at health statistics in the US, it's easy to see why this is such a popular goal. According to IBISWorld, adult obesity rates increase an average of 1.8% annually, with over 33% of the population reporting a 30.0 BMI or higher. These statistics are alarming, and the number of overweight and obese individuals continues to rise.
Seeing an opportunity to profit off the pain of others, many companies create "weight loss" supplements with untested and often dangerous ingredients. Many times, these supplements provide no results at best or, in worst-case scenarios, cause hazardous and life-threatening side effects. To ensure you don't fall victim to these scams, knowing which ingredients to look for and which to avoid is essential.
Beneficial Weight Loss Ingredients
There are many natural ingredients that aid in weight loss without subjecting your body to possible side effects. Although everyone is different, and you should always consult with your physician before taking any supplement, they are generally considered safe and effective.
Apple Cider Vinegar
If you've ever researched weight loss aids, chances are you've run across dieticians signing the praises of Apple Cider Vinegar. Many hail it as a miracle food for getting rid of fat, but the truth is, there's no magic about it, just scientifically backed reasoning as to why ACV is a fat-burning superfood. During the fermentation process, the apple's sugar is converted into acetic acid or ethanoic acid, which is where ACV gets its fat-burning properties.
.
Acetic acid is considered a short-chain fatty acid that works to dissolve hydrogen and acetate. When this happens, it has powerful effects on the body, including:
Lowering blood sugar
Decreasing insulin levels
Improving metabolism
Reducing fat storage
Burning fat
Appetite suppression
The best part about Apple Cider Vinegar is that thanks to its potency, you don't have to take a lot to reap its benefits!
Tumeric
Tumeric is an incredibly powerful weight loss spice, helping you lose weight and keep it off. According to a Tufts University study, Tumeric suppresses fat growth in the body's tissues, keeping you from gaining weight. It has other potent effects on the body, including:
Sugar level regulation
Insulin resistance prevention
Increased bile production, which emulsifies fat cells
Increased metabolism
Pomegranate
When people think of weight loss, they often overlook nutrient-packed pomegranates, but this fruit is a true superfood. Pomegranates are packed with antioxidants, conjugate linolenic acid, and polyphenols that boost your metabolism and burn fat. Additionally, they suppress your appetite and help your body fight off disease; now that's impressive!
Beetroot
Beetroot is low in calories and high in fiber, helping keep your digestive tract functioning properly and aiding in appetite suppression. It also contains compounds that target stubborn belly fat and detox the body.
Harmful Ingredients To Avoid
Harmful Ingredients To Avoid –
Sibutramine – A powerful stimulant linked to increasing the risk of stroke, heart attacks, and arrhythmias.
Harmful Ingredients To Avoid – When choosing a weight loss supplement, you should avoid these harmful ingredients.
Phenolphthalein – Declared "not safe and effective" by the FDA, some weight loss supplements still hide this dangerous ingredient in their pills.
Fenproporex – May cause an increased risk for heart arrhythmias or sudden death.
Bitter Orange – Similar to ephedra, it may cause vomiting, stroke, heart attack, fainting, high blood pressure, increased heart rate, and insomnia
Beneficial Pre-Workout Ingredients
For those focused on getting fit and increasing the potency of their workouts, pre-workouts can help increase stamina and energy and build muscle. However, choosing a pre-workout with the right ingredients is crucial to maintaining your health and avoiding potential deadly side effects.
Beta-Alanine
Beta-Alanine is a powerful beta-amino that increases the carnosine levels within muscles, neutralizing acidic byproducts after intense exercise. It also is shown to improve muscle endurance, support muscle growth, and reduce muscle fatigue.
L-Arginine Alpha-Ketoglutarate
L-arginine alpha-ketoglutarate increases the production of nitric oxide, which aids in vasodilation. Vasodilation is key in reducing muscle fatigue, enhancing recovery, and improving all-around performance. Studies show it to be well tolerated and safe, positively influencing Wingate peak power performances and 1Rm bench press during testing.
Chromium
Chromium is an excellent addition to your pre-workout supplement, thanks to its ability to help assist carbohydrate breakdown through insulin. By aiding your body's insulin capacities, it can build new proteins, which produce new muscle.
Pre-Workout Ingredients To Avoid
While there are many powerful and beneficial pre-workout ingredients, there are also dangerous ones you should avoid, like the ones listed below.
Yohimbe – A potent stimulant that can cause panic attacks, manic episodes, and anxiety.
Synephedrine – Also called Bitter Orange, as mentioned above, can cause extreme cardiovascular side effects.
Proprietary Blends – Ingredients labeled "proprietary blends" are often used as a deceptive practice among companies to boost margins and cut costs on their cheaply made, ineffective products. When seeking weight loss or pre-workout supplements, look for a company that offers full transparency on its practices and uses only pure, scientifically-backed patented ingredients.
Best Supplements For Weight Loss
These Apple Cider Vinegar Gummies make incorporating ACV into your diet easy and delicious. Now you don't have to suffer through the harsh, bitter taste that accompanies this beneficial superfood, just take these gummies and reap their benefits! Additionally, this powerful supplement contains pomegranate, beetroot, and blackcurrant, making it highly effective for weight loss and fat burning.
When you want to get the most out of your weight loss supplement, turn to these Tumeric Gummies. Packed into each delicious serving are potent anti-aging properties, as well as brain function and joint support.
Best Pre-Workout Supplements
When you want to get the most out of your workout while increasing mental focus and physical response time, reach for NO Excuse! Pre-Workout Powder. This nitric oxide supplement is packed full of high-quality ingredients; you can get the energy boost you need while promoting muscle mass development and increased endurance. Plus, with NO Excuse!, you never have to worry about sleep disruptions, even when taken at the end of the day, and its quick dissolving powder is delicious! Trusted ingredients include:
Vitamins B1,B2,B3,B6, and B12
L-Arginine Alpha Ketoglutarate
Magnesium
Beta-Alanine
Caffeine
Phosphorus
Chromium
And more!
When you're searching for nitrous oxide fitness supplements that won't cause jitters or mess with your sleep, look no further than Dragon Energy! Every scoop of this easy-to-dissolve powder contains powerful ingredients to help boost focus and mental clarity, increase response time, promote muscle development, and give you ample energy. Now you can tackle your workout with ease, thanks to Dragon Energy! Quality ingredients include:
Vitamins B1,B2,B3,B6, and B12
L-Arginine Alpha Ketoglutarate
Beta-Alanine
Caffeine
Chromium
And more!
If you're looking for fitness supplements that only contain the highest quality ingredients backed by science and free from harmful fillers, turn to Purple Elephant Fitness. At Purple Elephant Fitness, we feature only the best-in-class ultra-premium fitness supplements that help you get fit and lose weight so that you can achieve your health and fitness goals. Every product we produce is deeply rooted in our core beliefs of faith, family, fitness, and giving, which ensures integrity is at the forefront of everything we do.
When you choose Purple Elephant, you're choosing a name you can trust! At Purple Elephant, we never hide behind "proprietary blends," choosing instead to provide our customers with complete transparency with every ingredient we use. We only source the most potent and pure raw ingredients that undergo stringent real-world and laboratory testing and adhere to strict third-party assurance practices.
We proudly provide our customers with a quality line of supplements and fitness apparel, including:
Weight Loss Supplements
Pre-Workout Powder
Post-Workout Powder
Quality Apparel
Workout Accessories
Massage Guns
Fitness Equipment
Much More!
You work hard to reach your fitness goals; your supplements should too. Purple Elephant Fitness gives you everything you need to get the most out of your health and wellness journey, so you can get fit, lose weight, and look good doing it!